Claude Monet was born on November 14, 1840 in Paris.
On April 1, 1851, Monet refused to go into the family grocery store business, so instead he entered the Le Havre secondary school of the arts. Monet also undertook his first drawing lessons from talented artist-Jacques-François Ochard.
On the Bank of the Seine, Bennecourt (1868)
In 1871, he returned to France. Monet lived from December 1871 to 1878 at Argenteuil, a village on the right bank of the Seine river near Paris, and a popular Sunday-outing destination for Parisians, where he painted some of his best known works.
Impression, Sunrise
(1872)
In 1872, he painted Impression, Sunrise (Impression, soleil levant) depicting a Le Havre port landscape. It hung in the first Impressionist exhibition in 1874 and is now displayed in the Musée Marmottan Monet in Paris.
Beginning in the 1880s and 1890s through the end of his life in 1926, Monet worked on "series" of paintings, in which a subject was depicted in varying light and weather conditions.
Poplars Session: Key inspirations for MCT'S HEROES:
Four Trees
(1891)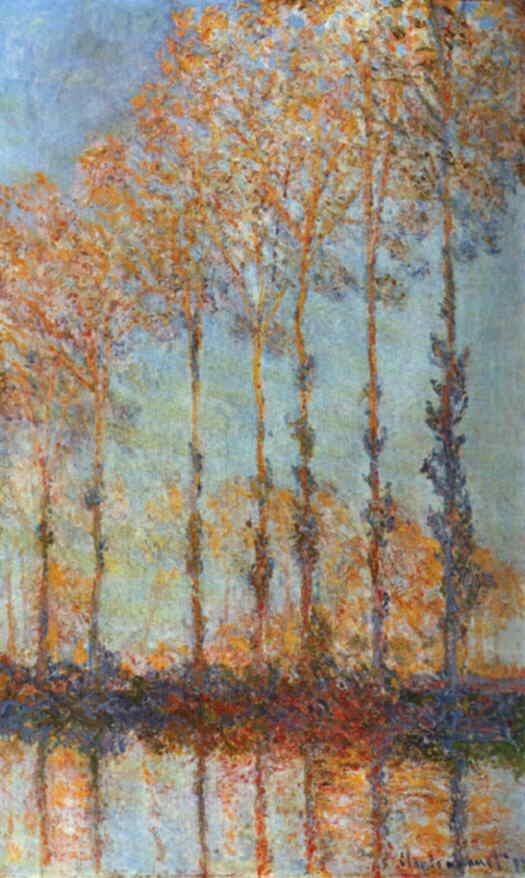 Poplars on the Epte
(1891)
His first series exhibited as such was of Haystacks, painted from different points of view and at different times of the day. He later produced several series of paintings including: Rouen Cathedral,
Poplars
, the Parliament, Mornings on the Seine, and the Water Lilies that were painted on his property at Giverny.
December 5, 1926 at the age of 86 and is buried in the Giverny church cemetery.